InphoniteVoice includes the ability to perform a test call to a phone number of your choosing, giving you the ability to either test your phone lines, or listen to messages you have created straight through, as the call recipient would hear them. Test calls from our server will simulate the reminders which are sent to patients.
The first thing you need to do to make test calls from InphoniteVoice is make sure the Test Contact record has the phone number(s) you wish to call. To do this, you would:
Open InphoniteVoice
In the left column, scroll to the bottom and click the Test Contact section.
Enter the contact name and phone number(s) desired in the phone number fields provided on the right.
Click Save at the bottom of the screen.

Once the changes are saved, click the Voice Designer for a voice test or written designer for text test section in the left column, choose the message you wish to use from the list in the right-hand window, and double click to open the message. At the bottom of the window, in the Test Number field, drop down the list of phone numbers and select the proper phone number to send the call to. This list is populated from the numbers entered on the Test Contact record.
The test number will show the primary number by default, but you can click the down arrow next to the phone number to show the secondary and mobile phone numbers.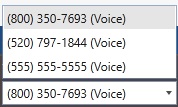 After selecting the phone number to call, simply click Test. InphoniteVoice will attempt to send the call to the selected selected within the next two minutes.

NOTE
If the message you are testing with contains any variables (for example, appointment date and time), there must be a valid test appointment (set for a date in the future) for the test contact and the variable (if any) in the message will need to be included in this test appointment.
This applies to InphoniteVoice SaaS.
If you are unable to find answers to your questions, our Technical Support Department would be happy to help.
If you have an account with our Support Portal, please use the link below to open a support ticket. Otherwise, please email support@inphonite.com for assistance creating a Support Portal account.

- OPEN A SUPPORT CASE -

All requests received between 9:00am and 6:00pm Eastern (6:00am and 3:00pm Pacific), Monday through Friday, will be responded to within one day. Our Technical Support team responds to requests in the order received. Requests from customers with Elite support will be placed at the head of the queue and attended to by the next available Support Technician.

PLEASE NOTE: Before contacting our Technical Support Team, please review our article "Before You Contact Support".

For more tips and useful information, be sure to check out the Inphonite Blog, News, and YouTube.

Top

Keywords: voice calls, phone calling, test, lines, messages